Newsletters
By Bob Dikman
The Dikman Company Has a New Address
During the month of October, The Dikman Company will be moving its offices in order to accommodate the growing medical practice of Dr. Radley Griffin, Griffin Concierge  Medical.
Our new location will be next door, 1313 South Howard Avenue, Tampa, Florida 33629.  We are excited about our tenant's growth and the growth of The Dikman Company's offices.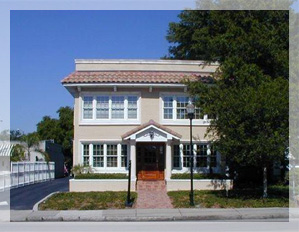 (1315 South Howard – Griffin Concierge Medical)
Headed Out to the World's Largest Gathering of Porsche Race Cars and Drivers
Bob Dikman is heading to Mazda Laguna Seca Raceway next week for the Rennsport Reunion VI. More than 70,000 Porsche fans are expected to attend this gathering of some of the world's most famous race cars and racing drivers.
Bob will be in attendance to take in all the sights and sounds, but more importantly, to protect the millions of dollars of cars that Alegra Motorsports owner, Carlos de Quesada will have on hand for the four-day race event.  Bob, Alegra's spotter, will work hard to protect the drivers and cars.   Click here for more information about the race!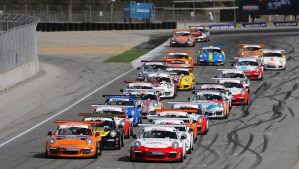 Leguna Seca Raceway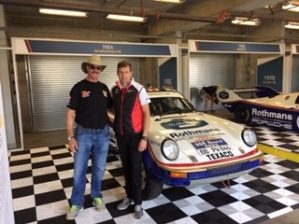 Bob Dikman with Michael  Christensen GTLM LeMans 2018 winner. Bob spotted for Michael for the 2017 IMSA season including the first place Rolex 24 win
By Bob Dikman
I am pleased to announce we will complete construction of our brand new 30,600 square foot WATERFRONT building by the end of August.
Located in the Tampa East Industrial Park, central to major arterial highways and interstates, this dock-high, 24 foot clear height, front-load building sits directly on the Tampa Bypass Canal – with 2,100 square feet of office space overlooking the water.  Where else can you get waterfront office space in an industrial building?
Additional building features include:
LED high-bay lighting
Three-phase power
Four dock-high overheads
One grade-level drive-in door
Upgraded finishes in the office area
Waterfront patio
The new building will accommodate all industrial uses, including manufacturing, processing, assembly, storage and distribution.
As the Tampa Bay area has continued to grow, the demand for high-quality industrial space has outpaced existing supply.  This will be the third standalone building we have brought to the market for lease in the last year.
Please contact Erika Matscherz at 813-215-4343 or erika@dikman.com for more information.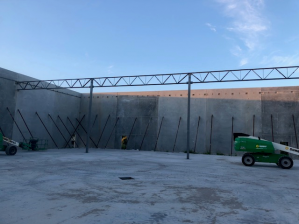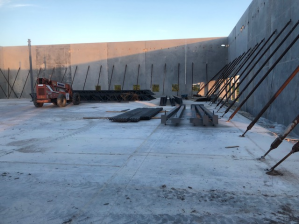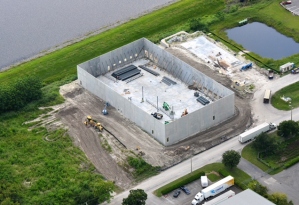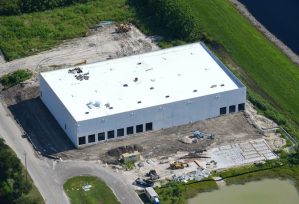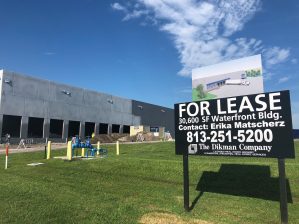 Another Victory for Michael Christensen and Porsche
On the racing front, it's been a banner summer for Michael Christensen.  Michael, a Porsche Factory driver I spotted for in the IMSA Weather tech series throughout 2017, has just won the 24 Hours of Le Mans for Porsche in the LMGTE Pro class.
Winning the LMGTE Proc class is a great accomplishment and was a career goal for Michael.  He was also the winner of the Rolex 24 last year.
Let's hope he keeps up his winning streak!
Brand New 30,600 Square Foot Waterfront Warehouse for Lease in East Tampa
By Erika Matscherz
T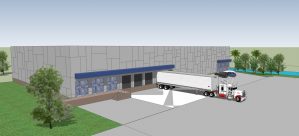 he Dikman Company broke ground in March on its 30,600 square foot spec building located right on the Bypass Canal in Tampa East Industrial Park on Massaro Boulevard.
We are very excited to offer an industrial building "on the water" with waterfront office space! The project is turn key with office occupancy late July 2018.
The 24-foot clear height building will have both dock high loading and a grade level overhead door with three-phase power and will include high bay LED lights.   The industrial market in Tampa is tight – there is very little available and when properties come on the market, they don't last long.
Please let us know if you know of someone looking to move or someone who may need to expand — we would love to talk with them about this exciting project.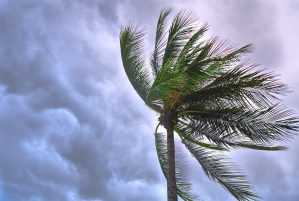 June is the Start of Hurricane Season. Is your Business Ready?
Businesses in hurricane prone locations need to have a preparedness plan ready every year.
Thanks to Hurricane Irma, the 2018 hurricane season is probably more on our minds this year than in years past. With that being said, the best way to handle potential hurricane weather is to develop a written preparedness plan — a basic "to do" list in the event a disaster strikes.
Businesses are the key to economic stability in any community. Planning for a hurricane ahead of time can save a business owner thousands of dollars in lost revenue due to structural damage, building content damage, interruption of business operations and employee displacement. Yet many still do not have an effective disaster plan in place to ensure business continuity.
Here are a few tips to get you started:
Create a Plan — One of the best defenses against the devastation of a hurricane is preparation. The first thing you should do is to sit down with your team and establish a written hurricane procedures document for protecting business property and its contents. Your plan should include what measures are necessary before, during and after a storm. It is important to take into consideration the steps your business must take to return to normal operation. Specify a timeline for when the stated procedures will be implemented. Think about creating a staffing policy. Identify essential employees and which of them will be in charge of implementing the identified procedures and if any, will remain on call during the storm. Your employees have a lot on their minds too. Make sure you allow time for them to respond to their own family needs.
Establish Communication — With a hurricane, you should plan for complete disruption of communications. A shared phone line can help provide a common source for information, assistance and flexible response. This line should be placed on a network that won't be impacted by the storm or flooding. It would be preferable if the line could be directed to an inland office that won't be affected by the storm and can be answered by a designated employee. Communicate with employees – whether they evacuate, stay at home or are stationed at properties. Confirming their location and safety is a critical step.
Verify Insurance — Insurance is never a popular topic, but it is necessary when a disaster occurs. Every hurricane is different; for example, Hurricane Irma affected almost the entire state of Florida with significant wind and water damage. It is important to take time each year, well before a storm is brewing, and review all insurance policies with your insurance agent to discuss adequate coverage. One of the most common questions asked after a hurricane is, "are we covered for loss of income?" Each insurance policy is unique to the insured. Make sure you understand the specific terms and conditions that must be met to determine if coverage applies. Having a good relationship with an insurance agent that understands your business is very important.
Identify and Protect Vital Records and Assets — Advances in IT infrastructure and your company's dependence on its availability have increased significantly over the years. Data storage, redundancy and consistent access to email are critical for employees to return to work. Make multiple backup files and store data in an alternate safe location. Cover major equipment with tarps in case of water intrusion. Many businesses are not as technology-savvy as others. If that is the case in your situation, make sure you protect records such as accounts receivable, customer records, tax documents and other personnel and administrative documents that may be stored on site in file cabinets.
Nothing can prepare you 100 percent for what you may face in the event of a hurricane. Each one is different in its impact. Remember, planning and preparation are major defenses against the devastation of a hurricane, and are the key to a speedy and successful recovery.
Draft a plan, let your employees know, and be ready!
FloridaDisaster.Org offers more information on hurricane preparedness including flood zones, evacuation zones and important emergency numbers specific to your location. Be sure to check out their webpage to assist with your planning.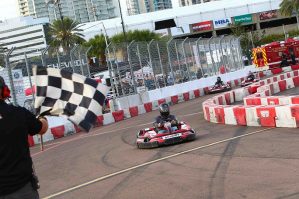 By Bob Dikman
Earlier this month, Kart 4 Kids, Inc. hosted its 7th Annual Kart 4 Kids Pro-Am Kart Race to benefit Johns Hopkins All Children's Hospital. The race featured well-known pros Sebastien Bourdais and Patrick Long and took place at the site of the Firestone Grand Prix of St. Petersburg.
Kart 4 Kids is an established fundraiser. The decision to move its venue from Andersen RacePark in North Palmetto to the streets of downtown St. Petersburg and on the runways of Albert Whitted Airport was a new one this year that came with a lot of work and some risks.
I am happy to say that after 10 months of discussions with Kim Green and Kevin Savoree of Green Savoree Racing Promotions, the owners, operators, and promoters of the Firestone Grand Prix of St Petersburg, and Dan Andersen and the folks at Andersen RacePark, we finally received the green light. We could hold our 7th Annual Kart 4 Kids kart race in St. Petersburg on March 7 – only four days before the Indycar event in St. Petersburg!
The event couldn't have been more perfect. It was a bit of a relief as well since I promised the Kart 4 Kids committee that as sponsor chair I could greatly increase the money raised by moving the venue to St. Petersburg. My next challenge was to make it happen in only seven weeks! With great help from a wonderful support team including Sebastien Bourdais and Pat Long, we got it done.
Last year's fundraiser yielded $81,000 to Johns Hopkins/All Children's Hospital, which was amazing. We are happy to share that this year we were able to raise $130,000!
Kart 4 Kids Inc.'s sole purpose is to raise money for Johns Hopkins All Children's Hospital by organizing and running the Kart 4 Kids Pro-Am Kart Race. With an all-volunteer staff, it is guaranteed that All Children's will receive 100 percent of the proceeds net of direct race expenses. This is incredible, and we are so happy for all of the children that this money will help.
All drivers were part of a "sponsored" race team. The teams included: Firestone, IndyCar, Honda Racing, and The Dikman Company, as well as 13 others. The day was perfect, and everyone had a lot of fun.
The race provided good karma for all, especially Sebastien Bourdais. The following Sunday, Indycar race day, Sebastien won the Firestone Gand Prix "again." Congratulations, Sebastien!
Improving bus service currently offers commuters the best route to more efficient regional mass transit.
By Michael English, A.I.C.P.
When it comes to moving really significant numbers of people through the Tampa Bay area without automobiles, it's hard to beat the allure of light-rail trains connecting our major cities and employment centers. But such projects come at a steep price, and we clearly don't yet have enough public or legislative support in our region for that solution. The smarter strategy at the moment is to look beyond train tracks to a more politically acceptable solution.
Jacobs Engineering recently unveiled the basic results of a $1.5 million study to address these needs and presented a more cost-effective and politically acceptable solution. The study could lead to a viable mass transit plan linking Pinellas, Pasco, and Hillsborough Counties.
We know our region has a lot to offer. But there's one big drawback….our lack of adequate mass transit resources. Commuters in our area can spend up to three hours or more each day in their cars commuting to and from work. There are more than 3.5 million people in the Tampa Bay area, and we are growing every day. Our expressway and surface road systems are not able to handle the traffic volumes they are forced to accept, resulting in the increasing and frustrating congestion that we are experiencing every day. The truth is, our "urban sprawl" land use pattern is a core problem, and too many of our far-flung residents, despite those torturous commutes, see no benefit to light rail; so at this point in time, a light rail solution will not happen. The requirement for a sales tax referendum to pay our local fair share for light rail is anathema to our conservative, no tax-elected officials, and the conservative voters who elected them.
We need to look at other options, and this new study could be the core basis of a viable solution. The Regional Premium Transit Feasibility Study envisions the creation of a modern, main-line bus system that looks very similar to a light rail system, but runs on rubber tires instead of metal train tracks. It would create a spine, like light rail, with a 40-mile route connecting Wesley Chapel to the University of South Florida, downtown Tampa, the Westshore area, Gateway Pinellas and downtown St. Petersburg, along the Interstate 275 corridor. A key to this concept, like light rail, would be significantly beefed up surface bus systems in Hillsborough, Pinellas and Pasco counties, to continue riders to their destinations efficiently.
The Bus Rapid Transit (BRT) concept will cost much less to build and operate, and create less disruption to construct. The FDOT estimates the construction costs to be around $450 million, compared to $2.5 billion to $4 billion for rail. Coincidentally or not, this plan also dovetails nicely with FDOT's current plans to add express lanes along most of the planned route.
The study made some interesting points about utilizing the interstate shoulders, where express lanes are not currently planned, to create the express bus lanes. The buses, along with automobile drivers paying to use the proposed express lanes, would have a dedicated through lane, as opposed being stuck in the general traffic lanes. The end-to-end trip along on this route would be about 90 minutes to travel the full 41 miles, including the stops along the way. The BRT would travel in these dedicated lanes and link with surface buses and other transit modes, at platform stations. This is good news for downtown Tampa, where it could connect with a newly extended TECO Line Streetcar System, for efficient downtown circulation without using a car. The BRT stop in downtown St. Pete would be equally advantageous, and surely include new ground transit connections.
We may finally have a politically and financially acceptable solution to improve regional mass transit in our area. It's a practical call on many levels. Currently, many companies considering a move to Tampa Bay are discouraged from locating here because of the terrible traffic congestion and commute times, and lousy transit for their employees. For urbanist millennials, environmentally-aware citizens and retiring boomers, who often don't want to constantly use (or even own) cars, it would become an attractive alternative. In order for our region to continue to thrive healthily, some significant regional transit improvements are long overdue, and this study shows the potential for a politically acceptable and very important step forward.
The Road to a New Team
By Robert Dikman, CEO, The Dikman Company
I've been a sports car race spotter for eight years. I started with The Racers Group (TRG) in 2011. For a couple of years, I only worked the Rolex 24 and then added the 12 Hours of Sebring—I was the very first spotter at the 12 Hours of Sebring. Last year, I joined Alegra Motorsports at the request of the owner. We won the Rolex 24 with 17-year-old Michael de Quesada, 19-year-old Jesse Lazare, 26-year-old Daniel Morad, 26-year-old Michael Christensen (Porsche factory driver) and 48-year-old Carlos de Quesada (Dad-his second win). After a slugfest 12 Hours of Sebring, Porsche Motorsport persuaded the team to continue the entire 11 race Weathertech series and I was asked to join the team for the series-YES!
All racetracks are NOT conducive to having spotters and the races that ONLY have same class cars don't need spotters. Therefore, I worked the following races: Rolex 24, 12 Hours of Sebring, Grand Prix at Long Beach, Circuit of the Americas (Austin), Watkins Glen, Laguna Seca and Road Atlanta. I had a blast! We ended the season with a second place finish at the Petit Le Mans at Road Atlanta, and were on track to start the season in January with the Rolex 24. In mid-December, Porsche offered the team an incentive to "switch" series and join the Pirelli World Challenge, which meant they would NOT be at the Rolex—bummer.
The Rolex 24 at Daytona International Speedway is the largest sports car race in the world, outside of Le Mans, and attracts world-class racing drivers from Formula 1, IndyCar, NASCAR and more. Since it was built for NASCAR, it allows full track viewing by a spotter. When sports cars are racing at Daytona, they run the NASCAR tri-oval and add an infield section. No spotter wants to miss working the Rolex.
When I received notice that I wouldn't be working the Rolex for Alegra in mid-December, I immediately let teams and drivers know I was available. Since we were so close to the Roar (the mandatory early January practice), most teams had their crews all set, and with the holidays upon us, communication was at a crawl.
In late December, I decided that I would go "free agent" and show up at the Roar and try to find a "new" team. I showed up at Daytona on January 4 and started walking the paddock and garages, talking to drivers, crew chiefs, and owners. Just maybe at age 66 I would be considered too old for the job and wouldn't get hired—there was a panicked moment. However, within 30 minutes I had a couple of offers. GREAT! I joined Park Place and will be at the Rolex followed by the 12 Hours of Sebring. I don't know yet if I will work the entire season with Park Place—we'll see.
Of Course the Rays Chose Ybor City for Their New Ballpark and Here's Why
By Michael English, A.I.C.P.
Personally, I would be just as happy if the Rays built an exciting new stadium right next to the Trop, and celebrated the old and the new before demoing an obsolete building that feels and smells like a high school gym. But, they apparently really believe it is locational access and rooftops within a certain radius, and not the building, that is the source of their problems.
So why Ybor City? Well, as we now know, the organization looked at a number of locations, including three or four in the Ybor City/Channel District area. The south Ybor City location was the only one that has (so far) worked out.
Think about the impact of a downtown area Tampa baseball park! Imagine driving into town, looking out over downtown Tampa's Channel District that already includes many cultural amenities, dramatic Port views, and new modern urban residences. You admire the city's growing skyline and you now see a brand new, innovative and architecturally inspiring baseball stadium full of fans, surrounded by commercial, office and retail development, alongside the historic fabric of Ybor City's heritage.
The proposed location, a 14-plus acre site on the southern edge of Ybor City, near the northern tip of downtown's Channel District is located between East Fourth Avenue and Adamo Drive to the north and south and 15th Street and Channelside Drive to the east and west; an area awaiting redevelopment for years.
The debate for location has been an ongoing discussion for years. Should the Rays stay in St. Pete? Should they move to Tampa? Both areas have pros and cons, but the one thing that everyone agrees on is that the baseball team needs a new stadium if they are to stay relevant and prosper. Tropicana Field's construction began in 1986 in an effort to lure a Major League Baseball (MLB) team to the area. The stadium, completed in 1990, was designed and built on a budget and  finally received a baseball team in1995; when MLB expanded to the Tampa Bay area. The existing stadium is now architecturally obsolete and will never attract the crowds needed to boost attendance.
I think the Rays do want to be in Ybor City. Their top criterion for a new stadium was better access to fans; and this site sits at the center of a densely populated region with easy connections to highly populated areas including Pinellas County, Brandon, Lakeland, and even Orlando. Ybor City seems to be the right choice. The area is in close proximity to downtown Tampa and access to fans by both surface and expressway roads and several existing transit systems. The Rays believe this location, with much better locational access and an exciting new stadium, will dramatically improve the historically low attendance rates at home games.
The proposed site is adjacent to the TECO Line Streetcar System (which is currently planning an expansion), right off the Lee Roy Selmon Expressway and less than a mile from I-275. With Union Station close by, residents from Orlando could conceivably travel to the games by train. The revival of the Cross Bay Ferry experiment earlier this year is already in discussion, so attending a game by water may also be feasible.
As many fans of the Ray's current stadium can attest, traffic issues often cause you to arrive late and make you want to leave early to avoid the road congestion. Getting into and out of the stadium is not terrible but also not easy. Additionally, even though Tropicana Field has a limited view of the water, it has no streetcars, limited restaurants, bars, and shops within walking distance—created in part by acres of surface parking. Historically, they are not attracting enough fans, only an average of 15,633 per game. The Rays finished last in MLB home attendance for the third consecutive season. Don't misunderstand me, the Rays ownership and management are very talented and community-oriented and they've done a lot with limited resources. But, at the end of the day, the St. Pete ballpark lacks the sizzle required to attract enough fans, and is not in a prime location.
Today, successful ballparks and arenas are community hubs during the season, as well as in the offseason. Rays ownership and management certainly has that vision—a desire to be in the middle of a dynamic, year-round urban city center. Fans, patrons and locals get together before and after games for food and entertainment. Rooftop views, restaurants, retail, bars, and easier, efficient commutes, all attract and increase attendance. If the Rays want to be in Tampa's urban center, Ybor City has everything they need and more….and a win/win for everyone!
A lot has been happening here at The Dikman Company! The team has been hard at work finding the best properties for our clients.
Earlier this month, Erika Matscherz was able to quickly secure office space in Downtown Tampa for Phoenix Marketing. This was such a pronounced success because the Rivergate Tower has struggled with vacancy over the past few years. Both Erika and the building owner worked together to coordinate the necessary alterations to the building, to ensure the best choice for the client.
Phoenix Marketing, a global marketing services firm headquartered in New York, has operated in Tampa for over thirty years, but a new location and work environment were needed to support their continued expansion. In just three months, a lease was signed and the office space was a match for what Phoenix was looking to find.
In mid-July, we co-brokered a seven-year lease with Centric Commercial/CORFAC International in the beautiful Sabal Industrial Park in Tampa. This property was leased to 50 Floor, one of the fastest growing residential carpet and flooring companies in the US. 50 Floor was eager to expand into the Tampa market, but their in-home shopping business model required a very unique warehouse and office space. We were able to provide our local market knowledge and find a building that met all of the client's needs.
This brand-new building has a 21,900 square foot sister-building that is still available for lease. Check out www.dikman.com for additional information on this property.
Erika also represented HEPACO as they signed an 18,859 square foot lease in Tampa. This 5-year lease was HEPACO's first Tampa location. Even in this tight market, Erika was able to locate and secure a property near the Port of Tampa, which was very important to the client.
Location was key for HEPACO, a leader in emergency response and industrial services. To ensure the property would truly be operational for HEPACO, the Owner agreed to renovations which included new offices, bathrooms, as well as re-skinning the building. A December move-in date is expected.
The Dikman Company is on Facebook! Follow us for the latest news in Commercial Real Estate and advice from your local experts.
Racing Update
When I accepted the position of team Spotter for Alegra Motorsports last November, the team owner and two-time Rolex winner and friend, Carlos deQuesada, asked me to join them for 4 endurance races in the IMSA Weathertech Series. These races included: The Rolex 24, Sebring (12 hours), Watkins Glen (6 hours) and Petit LeMans at Road Atlanta (10 hours).
After Sebring, the plan changed when Alegra became the Porsche points leader after winning the Rolex 24 and competing well at Sebring.
Porche Motorsports persuaded Alegra, the storied Rolex 24 winner, to continue with the 12 Race Series. The team moved on to Long Beach, Circuit of Americas (COTA), Detroit and Watkins Glen.
Located at the southern tip of Seneca Lake, Watkins Glen is one of the beautiful finger lakes located in the wine country of upstate New York. Racing has a rich 60-year history there that has included NASCAR, Formula 1 and IMSA. The region and track are absolutely beautiful. The track looks more like a state park and camping facilities are second to none. The atmosphere is very friendly and truly embraces die-hard race fans.
Team Alegra was ready for a grueling 6-hour race. Michael Christensen, Porsche factory driver, left the 24 Hours of LeMans to join us for his fourth race with the team. Daniel Morad and 17-year old Michael deQuesada joined Christensen for the quest for a win. Skillful driving, pit stops and spotting during six hours of incident-free racing unfortunately did not yield a winning result. IMSA's attempt at balancing the performance (BOP) of various manufacturers' race cars i.e. Porsche, Ferrari, Acura, Lexus, BMW, Lamborghini and Mercedes was not favorable for our Porsche GT3R. Christensen, one of the fastest race car drivers in the world, could not narrow the two-second lap deficit needed to win.
The quest for the win continues!
Tampa has risen as a vibrant, dynamic and beautiful city that is well-positioned to become the home to businesses of all sizes and types, due to the vast opportunities unfolding and the overall thriving economic environment. The City of Tampa is the largest city in Hillsborough County and is the third most populated city in Florida. Not only an economic hub, but Tampa also thrives in tourism, heath care, finance, technology and construction. 
The Tampa area outranked metros such as Dallas, Miami, Atlanta and Phoenix, as most affordable Top 20 U.S. metro cities. Tampa was also below the national average cost of living last year-so it doesn't come as a surprise that population is on the rise.
Investing in neighborhood redevelopment has become increasingly important over the last few years in the Tampa Bay area. Currently there are eight community redevelopment areas, including: Central Park, the Channel District, Downtown, Drew Park, East Tampa, Tampa Heights Riverfront, West Tampa and Ybor City.  Each of these redevelopment areas is helping to make Tampa's neighborhoods more attractive, safe, convenient, environmentally healthy and financially robust.
Michael English of The Dikman Company is fascinated at the evolution of urban planning, "With so many factors going into development, it is imperative to invest time in extensive research and use every resource at your disposal." As a former city planner and anthropologist, Michael reviews comprehensive plans for The Dikman Company and evaluate properties for redevelopment. 
Michael has been in real estate for over thirty-five years, and remains optimistic with the growing Florida market and the effects of redevelopment. He is also impressed with the encouraging programs The City of Tampa has in place to promote redevelopment, as it creates more job opportunities in retail, service, office and manufacturing.
 

Racing Update:

As the lead spotter for Alegra Motorsports, 2017 started off with a big win, the Rolex 24. Winning the 24 Hours of Daytona with our 17-year old driver, Michael de Quesada, the youngest driver ever to win the Rolex 24, was one of the most exciting races ever for this seasoned spotter.   Michael's dad, Carlos (celebrating his second win in 10 years), Jesse Lazare, Daniel Morad and Michael Christensen (Porsche factory driver) were all in attendance to celebrate this grand event. For the entire 29 minutes of the end of the 24 Hour race, Michael Christensen held the lead while I held my binoculars the entire time while communicating the position of the second and third place cars chasing him around the track.  Bringing him in for the win after a 3 wide push along the front stretch was exhilarating.  As Michael crossed the finish line, my fellow spotters, all standing, erupted in yells and applause.

Sebring followed with the addition of 3 additional spotters; Fred Beasley was atop a 40′ boom lift shared with the Chip Gnassi Ford guys at Turn 1, Bill Buff at Turn 3 atop our good friends motorhome; yours truly on the balcony of a Suite at theChateau Elan at Turn 7, the Safety Pin, and Manny atop the Porsche bleachers at Turn 17.  NO other team had 4 spotters. We were there for the win, but IMSA's balance of performance (BOP) proved to be our downfall. No matter how hard Michael Christensen pushed the car, making it look like it was dancing on the track, he couldn't keep up with the leaders.  BOP is meant to equalize the field, the Ferrari's, Lambos, Porsches, BMW's, Lexus' and Acura's, but unfortunately for this race it didn't work. We finished 10th.

As the points leader for Porsche GTD class, Porsche Motorsports twisted team owner Carlos de Quesada's arm and persuaded him to race the entire season which brought us to Long Beach, CA for the Long Beach Grand Prix. Michael Christensen, again was fast, flawless and easily leading the race when an errant pit stop under a short yellow gave us the penalty that pushed us back to finish 12th. Much fun was had in Long Beach and as the favored guest of Porsche Motorsports at their new Carson City Experience Center, Jens Walther, President, Porsche Motorsports North America rolled out the red carpet for us. 

At the May 6th COTA race (Circuit of the Americas-Austin, TX), our new on loan Porsche factory driver, young Mathieu Jaminet easily took the pole for GTD.  I enjoyed spotting from the amazing 251′ tower and enjoyed an aerobic benefit from the elevator being out of service as I ascended the 23 story tower 2-3 times a day. 

Halfway through the race, I assumed Mathieu would easily win this race with a 30 second lead in hand.  Once again, BOP beat us causing us to finish 7th.  

Stay tuned our next race coming up in Detroit.
As a successful business owner, you have nurtured your business and experienced growth over the last few years. As a result, you're quickly outgrowing your current space and it's time to start considering options. You decide to buy land and build a space which can accommodate your growth, as well as future expansion. 
Your first step is to make a deal on a piece of land that is in the perfect location. Everything progresses well until you find out the land you purchased won't be able to accommodate the warehouse you plan to build. In addition, there are some major environmental issues with the land that will prevent you from moving forward. Now you're stuck with a piece of property you can't use, and are behind on breaking ground on your larger space. 
This scenario happens more often than you think. The average commercial broker simply doesn't have the training or experience to be able to see many of the red flags which can arise prior to purchase. Extensive research must be completed before a parcel can be deemed the right fit for any business prior to purchase. 
At The Dikman Company, we understand the importance of digging deep to research and understand the property our client is considering. That's why we have experts on our team who thoroughly research every piece of land before we recommend it to our clients. Identifying these red flags early in the process is what we do best. Click on the video link to learn how the Dikman Company provides insight into why land use and zoning is a critical aspect of the due diligence process.   
Through this video you'll learn: 
How Michael English and Erika Matscherz combine their respected expertise to ensure each client is matched with the right property. 
Why understanding various community regulations is vital to determining what can and cannot be done with a property. 
How our team prevents hidden surprises by ensuring complete research and discovery is done on every project we work on. 
As I wrap up another season of racing in Florida (getting TOO hot), I thought I'd share some of the highlights:
Race season started for me in Florida last November as the weather started to cool. After a couple of track events at the world-famous Sebring International Raceway, I traded my racing helmet for my Patrick Long Pro-Am Kart4Kids hat as Sponsor Chair for the event. The event was held the day after 12 Hours of Sebring in mid-March. The co-chairs and I headed for Daytona for the HSR Daytona Classics to "re-sign" former drivers, solicit new drivers, and coax famous pro drivers to autograph merchandise for our charity auction. We lucked out and re-signed Spencer Pumpelly, Andy Lally (eight-time Rolex 24 winner), the famous Taylor brothers, former F1 driver Sebastian Bourdais, Jan Heylen, and Katherine Legg, along with new drivers Eric Curran and Trent Hindman.
Below are pictures of Hurley Haywood and Dorsey Schrader signing wine glasses for our charity auction benefiting Johns Hopkins All Children's Hospital.
Following several more track events at Sebring in December and January, I headed to Daytona International Speedway to fulfill my job as a spotter for pro team, The Racer's Group (TRG). As a spotter, my job is to stand on top of the roof of the Daytona International Speedway (pic below) and talk to the driver, crew, crew chief, and owner while listening to race control and helping the driver navigate traffic as well as assist with race strategy concerning pit stops and re-starts.
This year, the Aston Martin was to be anchored by F1 driver Sergio Perez, but his brother drove in his place. The all-Mexican team was sponsored by Tel-Mex, owned by billionaire Carlos Slim. Unfortunately, the 4:45 am driver did NOT heed the team owner's warning NOT to go two-wide through the famous "bus stop" and consequently ended up low man on the totem pole and got punted out of the race.
The end of January into the beginning of February found me back at Sebring for a four-day event titled 48 Hours at Sebring presented by Champion Porsche as driver and more importantly as Sponsor Chair. We raise in excess of $25,000 each year for Ronald McDonald House as a "side" venture since this is NOT a charity event. With over 400 drivers in attendance, this is the largest Porsche club race in the world and the largest amount of equipment to assemble at Sebring.
Several more track events occurred before I once again attended the famous 12 Hours of Sebring, this year as a spotter for Konrad Motorsports' two-car lineup with Lamborghinis. Unfortunately, one car caught fire during the morning practice which took it out of the race. Since Sebring does NOT have a spotter tower to spot from, our vantage point is typically on top of a motorhome or at the top of the Chateau Elan. For the first time in the event's 64-year history, the race was halted for two hours and 15 minutes due to lightning. The race was restarted and our car did OK, but was hurt by IMSA's bizarre "balance of power" rules for this race.
The next morning, I headed to Palmetto, Florida as Sponsor Chair to attend the Patrick Long Pro-Am Kart4Kids race. This event naturally featured the only Porsche American factory driver, Patrick Long. I'm pleased to report after wrapping up another successful event, we raised over $65,000 for Johns Hopkins All Children's Hospital.