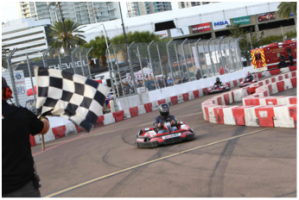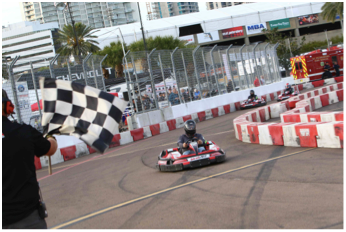 We invite you to join the 9th Annual Kart 4 Kids Pro-Am Kart Race in 2020. Become a sponsor and help us raise much-needed money for Johns Hopkins All Children's Hospital in St. Petersburg, Fla. With contributions from our past sponsors, donors, volunteers and professional racing drivers, we've raised more than $596,000 over the last six years. Every dollar helps to save the life of a child.
Our fundraising goal for 2020 is to exceed the $185,000 raised in 2019. We ask your support in helping us achieve our new goal of more than $200,000.
Over the years, we've built a fun racing format that consists of pairing participant drivers with one or two pro drivers. Past drivers have competed in various racing series, such as the NTT IndyCar Series, the IMSA Weathertech Sports Car Championship, and Pirelli World Challenge, among others. Past drivers include Helio Castroneves, Tony Kanann, Scott Dixon, Sebastien Bourdais, Patrick Long, Ryan Hunter Ray, and many others.
Our exciting event includes not only the modified enduro kart race, but also spectator activities with live and silent auctions, as well as ample time to meet and talk with the professional racing drivers.
We hope you'll join us to help Johns Hopkins All Children's Hospital save lives in our region of Florida. Our Race is March 11, 2020, the Wednesday before the St. Petersburg Grand Prix—the first IndyCar Race of the season.
Contact me directly at (813) 251-5288 x101, or by email at dikman@dikman.com and specify Karts for Kids in the subject line for more information on how you can become a sponsor today.
See you in St. Petersburg,
Bob Dikman
Sponsorship Chairman