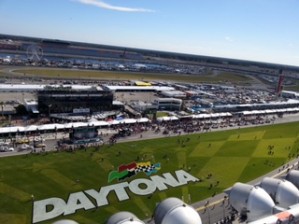 Another great 24 hour race for 2015 complete! For the second year in a row, I had the distinct pleasure of spotting for James Davison in the 007 Aston Martin V12 Vantage GT3 race car.  James comes from a pedigreed family of racers and has proven his abilities by garnering 5 poles in the last six months, one of which was at the Rolex 24. He is currently testing for Nissan, and was a driver in the Indy 500 last May. James was joined by Christina Nielsen, a young Danish born driver who has garnered a lot of experience in Europe with several podium finishes, and Brandon Davis, a World Challenge GT Champion with NASCAR experience who has been with TRG since 2013. The fourth driver was Christoffer Nygaard, another Danish auto racer with extensive European experience, the Rolex 24 being his first US racing event.
James Davison was charged with qualifying the car, having high expectations already set since James had taken four poles in a row in 2014. After beating out a Dodge Viper, James' expert driving of the 007 took the pole in the GTD (Grand Touring Daytona) class for the 24 hour race.  The team was ecstatic!
Spotters for the Rolex 24 started working the Thursday before the race, assisting the team during practice Thursday evening and Friday.  Some spotted for teams that had entered a support race, the Continental Tire SportsCar Challenge which was on Friday.
Kevin Buckler, the team owner, who has multiple car wins as a driver, including LeMans, warned the drivers in the final meeting to watch out for any car or driver with a last name ending in a vowel! "They'll take you out!" Come on Kevin, I thought, we're all friendly competitors and we all sorta like each other!  Well, early on, after leading the race from the start, a Ferrari driver spun out at Turn Six after a BMW cut him off. As the Ferrari was restarting his stalled car to reenter the racetrack, he did the dumbest thing. He popped the clutch and darted into the side of James Davison in 007. I wasn't on duty then so I can't take the blame. Ok Kevin, you were right.  The "I" did take him out!
After being in the garage for over 100 laps, 007 reentered the race with no hope of a podium finish, let alone a win. The rest of the race was clean and fun with 007 finishing 8th in GTD.