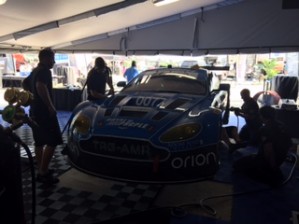 With high expectations for "another" pole position, 007 qualified 5th.  James Davison was ticked!  The car didn't seem to have the power we've seen it have as recently as Daytona.
My spotting position at Sebring for the last two years has been atop a motor home with a "nice" canopy at Turn Three. The owners have several motels on St. Pete Beach and have secured this high profile spot for many years. Unlike the roof of Daytona International Speedway where I'm situated at a 100' elevation enabling me to not only see the entire race track but all the way to Daytona Beach, at Sebring I'm only able to see half the race track…better than nothing.  Our friend at Corvette Racing sits atop a United Rentals 60' boom lift with no cover baking in the sun…no thank you!
The 007 drivers and crew performed flawlessly. The car was not as fast as the Viper and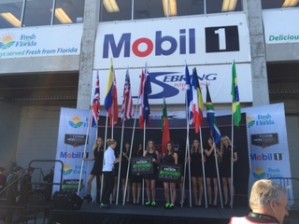 Porsche, but with consistent laps and perfect pit stops 007 climbed to third place with two hours remaining. With one hour left in the race, the Viper stumbled allowing 007 to secure second place.  The excitement atop the motor home was crazy! Fortunately, my headset prevented  the yelling and screaming from interfering with my job to keep my driver safe.  James was closing in on first place as I called out the corners the Porsche was exiting in order to inspire James to keep pushing.  Well, the finish was exciting and "real" close. 007 took second place in GTD in the 12 Hours of Sebring.