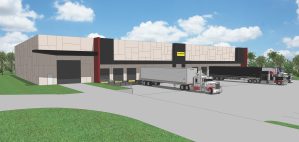 TAMPA, Fla. (December 20, 2017)— The Dikman Company announced today it will break ground on a new spec industrial facility in Tampa's premier industrial park.
The new 26,100-square-foot, dock high, tilt wall building is located in Tampa East Industrial Park on Massaro Boulevard. As the developer, The Dikman Company anticipates the project to be completed by June 2018 and will have 22,800 square feet available to lease; 3,300 square feet has been pre-leased.
Located right on the Bypass Canal, the building will have approximately 1,800 square feet of waterfront space. The 24-foot clear height building will be a dock high front load with three-phase power and will include LED bay lighting.
The Tampa Bay area has continued to grow, as has the need for industrial space. The new building will accommodate light industrial uses including manufacturing, processing and assembly, as well as storage and distribution. The location is central to major arterial highways and interstates.
"Our team of professionals is excited to take part in this project," said Bob Dikman, chairman and chief executive officer, The Dikman Company. "The demand for high quality industrial space has finally outpaced the existing supply throughout Tampa Bay. This will be our third stand-alone building that we have brought to the market in the last year for lease."
Please contact Erika Zipfel Matscherz at 813.215.4342 or erika@www.dikman.com for more information.
About The Dikman Company
The Dikman Company is a Commercial/Industrial Real Estate Services firm that has been providing clients throughout Florida with a full range of commercial real estate services since 1983. Commercial real estate services include development, sales, leasing, property management, tenant representation, investment counseling and asset analysis. For more information, visit www.Dikman.com.