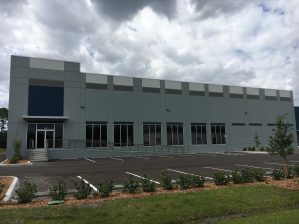 TAMPA, Fla. (February 7, 2018)— Erika Zipfel Matscherz of The Dikman Company represented the landlord, Queen Palm Properties, LLC, and leased its new 21,900 square foot building located in Sabal Park at 3561 Queen Palm Drive, Tampa, Fla.
"Erika leased the second building of our two-building Queen Palm, Sabal Park project in record-breaking time," said Robert Dikman, chairman and chief executive officer, The Dikman Company. "This 21,900 square foot building and its 17,000 square foot sister building were both leased within six months of completion at record high rates. Finally, Tampa has turned the corner on rental rates and is 'now' a landlord's market."
The tenant, Patriot Transport, Inc., offers warehousing facilities and services for supply chain and storage needs, as well as interstate logistics and transportation services. The company, based in Chicago, Ill., signed a five-year lease.
Patriot Transport was looking at many properties in the Tampa Bay area before selecting Queen Palm Properties. A new building, which is also a stand-alone building, was important in the final selection process. This is Patriot Transport's first location in Tampa, Fla. Michelle Senner of Colliers International represented the tenant.
About The Dikman Company
The Dikman Company is a Commercial/Industrial Real Estate Services firm that has been providing clients throughout Florida with a full range of commercial real estate services since 1983. Commercial real estate services include development, sales, leasing, property management, tenant representation, investment counseling and asset analysis. For more information, visit www.Dikman.com.