Tampa, Fla. –The Dikman Company procured a 10-year lease with Advanced Disposal Services, Inc. for a 23,200 sq. ft. tilt-wall maintenance facility on 8.83 acres in Orlando. As the developer, The Dikman Company anticipates ground breaking of the multi-million dollar facility to take place mid- August with a completion date scheduled for March 2017.
"Our development team is proud to have been competitively selected to assist Advanced Disposal in creating a master prototype for their state–of- the- art maintenance facility they expect to duplicate in other parts of the country," said Bob Dikman, Chairman and CEO of The Dikman Company.  "This facility will be built to green building standards and will consolidate several Advanced Disposal facilities into one, to meet the expanding needs of Central Florida."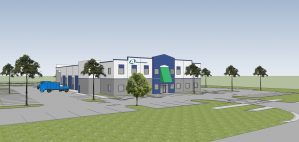 Advanced Disposal intends on using the space, located at 5722 N. Pine Hills Road in Orlando, as a new truck maintenance and compressed natural gas fueling facility.  The solid waste management firm will be servicing municipal contracts in Orange and Seminole counties as well as the Town of Oakland and estimates that approximately 120 employees will be working at this location.
About Advanced Disposal
Advanced Disposal brings fresh ideas and solutions to the business of a clean environment. As the fourth largest solid waste company in the U.S., they provide integrated, non-hazardous solid waste collection and recycling and disposal services to residential, commercial, industrial and construction customers across 16 states and the Bahamas. Their team is dedicated to finding effective, sustainable solutions to preserve the environment for future generations. Learn more at www.AdvancedDisposal.com.
 About The Dikman Company
The Dikman Company is a Commercial/Industrial Real Estate Services firm that has been providing clients throughout Florida with a full range of commercial real estate services since 1983. Commercial real estate services include: sales, leasing, development, property management, tenant representation, investment counseling and asset analysis. For more information, visit https://www.dikman.com/ or follow them on Facebook and LinkedIn.
###