TAMPA, Fla. (Nov. 19, 2018) — The Dikman Company's own Erika Zipfel Matscherz was recognized at the 7th Annual CREW Tampa Bay Awards banquet on Thursday, November 15, 2018.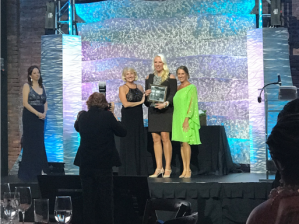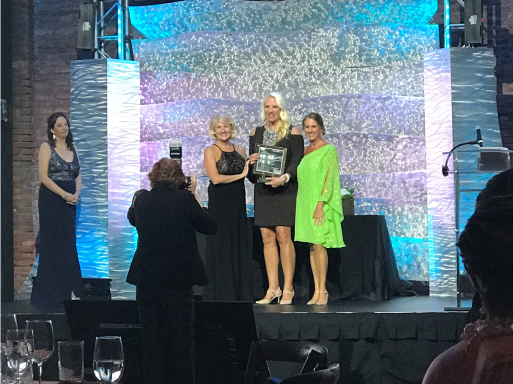 Erika was honored with the prestigious President's Award for her contributions throughout the year to CREW Tampa Bay. CREW President Dana Grutchfield stated in her remarks prior to the announcement, "The President's Award is not just about recognizing those who are already successful; it's also about recognizing those who serve and work together with others to build a stronger community of women in the Tampa Bay real estate industry."
Dana went on to add, "Erika is a leader in our chapter after just two years. Open to new challenges, she has developed and worked with a group of other members, many who are new to the organization. Leading this group, Erika has revitalized some of our events and strengthened our members' involvement, networking opportunities and connections to CREW."
"It is wonderful to be part of such a great organization with an amazing group of women," said Erika Zipfel Matscherz, associate, The Dikman Company. "I feel blessed and extremely honored to receive this award, and I will continue to do everything I can to be deserving of it."
The CREW Tampa Bay Excellence Awards recognized many of its members for various individual areas of excellence in the commercial real estate community. The event was held at Armature Works in Tampa.
CREW Tampa Bay is dedicated to transforming the commercial real estate industry by advancing women globally. CREW Network's membership is more than 10,000 professionals in more than 70 major global markets representing all aspects of commercial real estate.
About The Dikman Company
The Dikman Company is a Commercial/Industrial Real Estate Services firm that has been providing clients throughout Florida with a full range of commercial real estate services since 1983. Commercial real estate services include: development, sales, leasing, property management, tenant representation, investment counseling and asset analysis. For more information, visit www.Dikman.com.
###