Tampa, FL (Thursday, April 19, 2016) – The Dikman Company's Chairman & CEO Bob Dikman was recognized at the Florida Gulf Coast Commercial Association of Realtors (FGCAR) Pinnacle Awards on Thursday, March 31. He was named #2 Regional Top Producer in the Industrial Brokerage category.
"Being recognized at the FGCAR Pinnacle Awards is a great honor and is testament to the skillset of each member of The Dikman Company team," said Bob Dikman. "Many were recognized showing how fortunate the Tampa Bay area is to have such a wide variety of talent in the commercial real estate realm."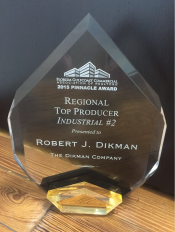 The Pinnacle Awards honor FGCAR members for top deals and top production at national and regional levels. The 2015 Pinnacle Awards event was held at the Mainsail Conference Center in Tampa and more than 120 people attended the annual event. For a complete list of the 2015 winners, visit the FGCAR website.
About The Dikman Company
The Dikman Company is a Commercial/Industrial Real Estate Services firm that has been providing clients throughout Florida with a full range of commercial real estate services since 1983. Commercial real estate services include: sales, leasing, development, property management, tenant representation, investment counseling and asset analysis. For more information, visit www.Dikman.com or follow us on Facebook and LinkedIn.
###