TAMPA, Fla., September 10, 2015 – Bisk Education Inc., a worldwide leader in online education, today announced the acquisition of the Hav-A-Tampa property at 3901 Riga Blvd., a transaction that includes 135,000 square feet of office space and 15 acres in Sabal Park. This allows the company to connect its existing two properties in Sabal Park, expanding the Bisk corporate headquarters to a 27-acre campus and 265,000 square feet of office space.
"The investment we are making with the purchase of the Hav-A-Tampa property strengthens our long-standing ties to the vibrant Tampa Bay business community," said company President Michael Bisk. "This investment supports our long-term strategic vision to provide an infrastructure for future growth and innovation. We now have the opportunity to expand our operations as well as build a more open and collaborative workspace for our 900 employees."
Visit www.bisk.com/careers/ to learn more about career opportunities at Bisk Education.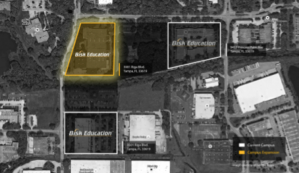 About Bisk Education, Inc.
Founded in 1971, Bisk Education is one of the largest and most respected facilitators of online education. The company's innovative, student-focused technology and support services power the delivery of degree and professional certificate programs from the nation's leading traditional and accredited universities. Bisk is committed to transforming lives by supporting the lifelong learning goals of adult learners. For more information, go to www.Bisk.com.
##