A New Record Set at 8th Annual Kart 4 Kids Charity Event
By Bob Dikman
Kart 4 Kids Inc., a charity event in its eighth year, hosted the annual Sabastien Bourdais / Patrick Long Pro-Am Kart Race on March 6 to benefit Johns Hopkins All Children's Hospital. Taking place at the Firestone Grand Prix of St. Petersburg, the race featured well-known pros including Sebastien Bourdais, Patrick Long, Scott Dixon, Tony Kanaan, James Hinchcliffe, Santino Ferrucci, Felix Rosenqvist, and 13 other pros.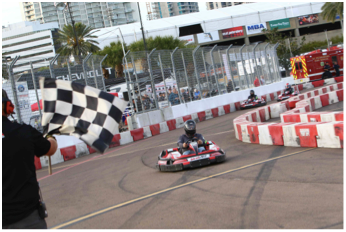 Kart 4 Kids Inc. is an established fundraiser. Its only purpose is to raise money for Johns Hopkins All Children's Hospital by organizing and running the Kart 4 Kids Pro-Am Kart Race. With an all-volunteer staff, 100 percent of the donations less direct expenses will go to the hospital and enable the purchase of life-saving medical equipment to help with the diagnosis and care of some of our regions' sickest children.
This year's committee dedicated long hours to the success of Kart 4 Kids and it couldn't have turned out any better. With the help of an amazing team including Sebastien and Patrick, we are happy to share that we topped 2018's record-breaking numbers. The 2019 Kart for Kids event yielded $185,000!
It was a perfect day. The weather was great and it turned out to be an amazing event.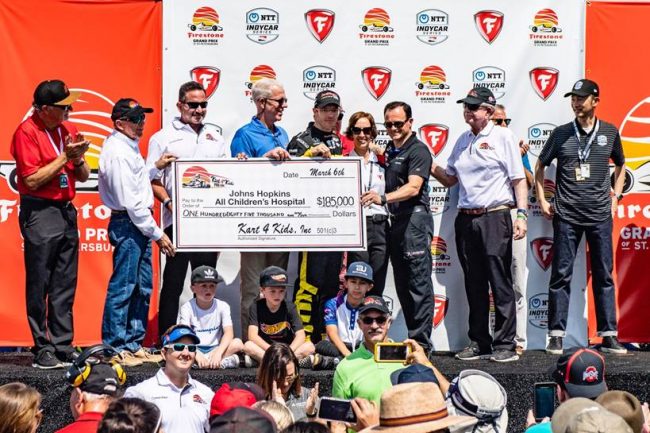 Twelve Hours of Sebring
By Bob Dikman
The International Motor Sports Association (IMSA) WeatherTech SportsCar Championship completed its 67th Mobil 1 Twelve Hours of Sebring event on March 16.
Sebring is the second round of the 2019 ISMA Weather Tech SportsCar Championship and one of the four prestigious endurance races that make up the Michelin Endurance Cup. IMSA is celebrating its 50th anniversary.
During the event, I spotted for Land Motorsport and we qualified tenth and managed to get to third place in our class just five minutes before the end of the 12-hour race only to get passed again by the Ferrari to end up finishing fourth.
The rainy day was relatively accident-free and was the most heavily attended Twelve Hours of Sebring event in history. It is also the only event to actually turn fans away.