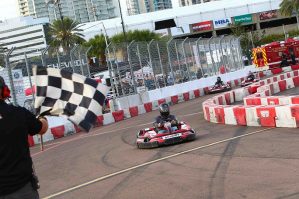 By Bob Dikman
Earlier this month, Kart 4 Kids, Inc. hosted its 7th Annual Kart 4 Kids Pro-Am Kart Race to benefit Johns Hopkins All Children's Hospital. The race featured well-known pros Sebastien Bourdais and Patrick Long and took place at the site of the Firestone Grand Prix of St. Petersburg.
Kart 4 Kids is an established fundraiser. The decision to move its venue from Andersen RacePark in North Palmetto to the streets of downtown St. Petersburg and on the runways of Albert Whitted Airport was a new one this year that came with a lot of work and some risks.
I am happy to say that after 10 months of discussions with Kim Green and Kevin Savoree of Green Savoree Racing Promotions, the owners, operators, and promoters of the Firestone Grand Prix of St Petersburg, and Dan Andersen and the folks at Andersen RacePark, we finally received the green light. We could hold our 7th Annual Kart 4 Kids kart race in St. Petersburg on March 7 – only four days before the Indycar event in St. Petersburg!
The event couldn't have been more perfect. It was a bit of a relief as well since I promised the Kart 4 Kids committee that as sponsor chair I could greatly increase the money raised by moving the venue to St. Petersburg. My next challenge was to make it happen in only seven weeks! With great help from a wonderful support team including Sebastien Bourdais and Pat Long, we got it done.
Last year's fundraiser yielded $81,000 to Johns Hopkins/All Children's Hospital, which was amazing. We are happy to share that this year we were able to raise $130,000!
Kart 4 Kids Inc.'s sole purpose is to raise money for Johns Hopkins All Children's Hospital by organizing and running the Kart 4 Kids Pro-Am Kart Race. With an all-volunteer staff, it is guaranteed that All Children's will receive 100 percent of the proceeds net of direct race expenses. This is incredible, and we are so happy for all of the children that this money will help.
All drivers were part of a "sponsored" race team. The teams included: Firestone, IndyCar, Honda Racing, and The Dikman Company, as well as 13 others. The day was perfect, and everyone had a lot of fun.
The race provided good karma for all, especially Sebastien Bourdais. The following Sunday, Indycar race day, Sebastien won the Firestone Gand Prix "again." Congratulations, Sebastien!