Company Blog
By Erika Zipfel Matscherz
Who hasn't at one time or another had a job in retail or in the restaurant business?  I am sure most of us have.  And  how many times did your manager tell you, "the customer is always right.  No matter what happens, the customer is always right!"  Most of us have had this saying beaten into us during our years of working in these industries. And, most businesses and companies, if asked, would most likely claim they live by this rule to this day.
Well…some may beg to differ.   Maybe when life was a bit simpler and most people were honest and honorable, the customer was always right. For example, if a customer ended up purchasing a new shirt from your retail store and then brought it back stating they washed it once and it fell apart, you would apologize, ask them if they wanted to exchange it or gladly refund them their money. If you worked at a restaurant and always prided yourself on giving stellar service and attention to your tables, yet one of your customers talked to your manager after their meal and complained about your service, the manager would have comp'd their meal, apologized, and then possibly fired you.  Again, always living by the trusted saying that the customer is always right.
I would agree that perhaps the customer used to always be right.  However, in today's world so many people are just looking out for themselves.  So many people are not honest, even though they were brought up that way.  So many people will lie if the outcome serves them best.  What happened to us?  What happened to the simple fact of  being able to trust what someone told you?  What happened to honesty and where did it go?  This is why many people don't feel the customer is always right.  Unfortunately, there are too many people out there more than willing to lie to get what they want……..more than willing to lie to get something for free…….more than willing to lie to get someone in trouble just because they are having a bad day.   So then, how can we trust what our customer is telling us?
Although this is a growing problem in our society, I choose to believe in people.  I may get hurt sometimes and shocked at the outcome, but I cannot live my life in distrust. I choose to believe the best in everyone and hope that by me living a life of truth and honesty, it will (hopefully) rub off on some of those that aren't so honorable. I choose to live by the motto, The Customer Is Always Right.
By Erika Zipfel Matscherz
"Is anybody out there? Anybody there?
Does anybody wonder? Anybody care?"
You probably recognize these words from Def Leppard's famously infamous song, "Foolin." Although this may date me slightly, who didn't (and still does) LOVE some Def Leppard?
Well…these words were being sorrowfully declared by my newest client. He wasn't joyfully quoting Def Leppard's well-known lyrics when I answered his email request for help to find downtown office space for his company. He was quite simply at a loss as to why it was so difficult and practically impossible to get someone, anyone to respond to his numerous requests to various brokers for assistance. He had exhausted the search on his own and decided to reach out to a professional for assistance. When I answered his email, he explained to me that he had reached out to many local brokers and hadn't gotten a single response…..until he called me. I was happy to assist him in finding a new property for his company and made sure I proved to him that at The Dikman Company, we pride ourselves in Raising the Bar!
By Erika Zipfel Matscherz
We have all heard the phrase, "Keep it simple, stupid." This straightforward, yet slightly offensive (to some) idiom has more legs to it than you may think. When a client comes to you and asks you to find them a new property for their company that is in need of expansion, do you give them 20-to-30 options? And then spend the next four- to-six weeks (or months) with them touring properties endlessly trying to help them narrow down the search to find the "right" property? When given too many choices, making a decision can become quite difficult. For example, have you ever gone to get frozen yogurt and tried every flavor available and then have no idea which one you really want? Anyone can become overwhelmed when given too many choices. At The Dikman Company, we find it best to take the time to really get to know our client and their needs. By asking specific questions to find out the particulars of what they require, you can save both you and your client a tremendous amount of time. Narrow down the essentials of what they really need ahead of time such as:
• warehouse square footage versus office square footage?
• do they require dock high for their use or would van high suffice?
• what is the minimum clear height required?
• do they need to be within a certain amount of miles from major interstates?
• what price range are they wanting to spend?
By taking the time to get to know your client, you can then narrow down the properties you present to them, which saves everyone time and money. So, please don't forget to keep it simple…
By Erika Zipfel Matscherz
Many real estate companies, especially the small, boutique-sized ones, try to handle their own marketing. After all, saving money is important, right? For years, we did all our own marketing. The problem is when business is good and everyone is busy, this is one of the first things that gets dropped. What would you choose to spend your time on if time is off the essence – preparing the next newsletter that needs to get done or showing a property to an interested Tenant? Leasing your vacant space gets instant revenue; however, spending 8 hours on the next company newsletter, doesn't. So, yes, marketing is one of the first things that goes to the wayside when we are super busy. And, who isn't busy?
The benefits of hiring a professional marketing company are invaluable. Whether it be for company newsletters, producing direct mail pieces to market available listings, or designing and updating your website, a skilled marketing company can make the difference between just "getting it done and getting it done right". A marketing company can take the time to make sure you are targeting the right customers, ensure your message and branding are both concise and powerful, and offer professional design.
We find it's best to stick to our unique ability – offering our clients excellent commercial and real estate services and let our marketing company do their job by making us look good.
By Erika Zipfel Matscherz
Do you feel appreciated?
How often do you feel appreciated?
Isn't it amazing when someone does something so unexpected that makes you realize YOU are appreciated!?!
Most of us work so hard every day…….doing all we can to succeed, be productive, excel, be a good employee or employer, be a good parent, Mom or Dad, son or daughter, etc.
At The Dikman Company, we pride ourselves in exceeding customer expectations. One way we achieve this is by visiting our Tenants in person on a quarterly basis to check in and see how they are doing. During this visit, we take them a Tenant Appreciation gift such as pizza for the staff, bagels and cream cheese, donuts, or sandwiches for lunch. We take the time to sit down with them and find out how 'they' are doing…….how is their business? Have they outgrown their space and need more square footage? Do they have any roof leaks? Are there any issues they would like to make us aware of? Taking the time to check in with your Tenants can make a world of difference. We continue to be amazed at how much our small effort means to our Tenants and find that the small things really do matter.
By Erika Zipfel Matscherz
Over the years we have seen many Lease Agreements that do not include any "Rules and Regulations". This is a huge oversight and can cause issues down the road with Tenants. Including items such as parking regulations , what is and is not allowed to be parked on property, whether or not vehicle maintenance is allowed on property, whether or not the Tenant is allowed to store items outside their unit, and rules regarding smoking are just a few examples of important items that should be included in the Rules and Regulations.
The 4th Annual Patrick Long Pro-Am Kart Race saw professional race car drivers put their skills to work on slightly smaller vehicles, earning $67,500 for All Children's Hospital Johns Hopkins Medicine.
ONE OF THE FASTEST-GROWING
third-party events held to support the hospital, Kart 4 Kids is taking the lead on fundraising. Participants worked hard and played hard to raise money for All Children's.
"We've gone from raising $6,400 the first year to $67,500 this year, which is our highest yet," says co-chair Page Obenshain. "One hundred percent goes to All Children's."
"Pro driver and event chair Patrick Long has worked very hard to help us get the top Nascar, Indy, IMSA and more drivers," adds co-chair David Bassett. "Most of them race all day Saturday at the 12 hours of Sebring, then get up the next morning and head over to Andersen Race Track in Palmetto to race for us, which says a lot about their dedication." Andersen donates the track time, and Obenshain has secured sponsors like Patron Tequila and Rally Food Stores. Twenty dedicated committee members are mostly Suncoast Porsche Club of America members. The race includes both pro and amateur drivers, who form teams and drive together.
A VERY SPECIAL POSTER ARTIST
The designer of the official Kart 4 Kids poster and his family have a history with All Children's. Five-year-old Carter was born with supraventricular tachycardia, a rapid, irregular heartbeat that required a two-week stay and care from multiple specialists at All Children's, including an electrophysiologist.
"My daughter was also treated by pediatric cardiology at All Children's, and my wife, Stephanie, spent years there as a neonatal intensive care nurse," explains Carter's dad, Mike, who is the sales manager at Bert Smith Porsche. "I definitely have firsthand knowledge of the amazing work All Children's does."
"It isn't a coincidence that Kart 4 Kids has become such a success in a very short time," says All Children's Hospital Foundation Vice President Sylvia Ameen. "This group has worked so hard and shown incredible dedication to All Children's. They are bringing awareness of our mission to an entirely new audience in Manatee County. After all the work they did for this event, the drivers took the time to come to St. Petersburg and tour the hospital, to personally see the impact of their philanthropy."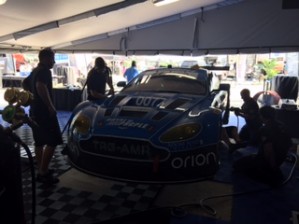 With high expectations for "another" pole position, 007 qualified 5th.  James Davison was ticked!  The car didn't seem to have the power we've seen it have as recently as Daytona.
My spotting position at Sebring for the last two years has been atop a motor home with a "nice" canopy at Turn Three. The owners have several motels on St. Pete Beach and have secured this high profile spot for many years. Unlike the roof of Daytona International Speedway where I'm situated at a 100' elevation enabling me to not only see the entire race track but all the way to Daytona Beach, at Sebring I'm only able to see half the race track…better than nothing.  Our friend at Corvette Racing sits atop a United Rentals 60' boom lift with no cover baking in the sun…no thank you!
The 007 drivers and crew performed flawlessly. The car was not as fast as the Viper and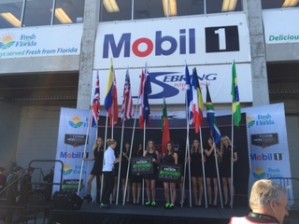 Porsche, but with consistent laps and perfect pit stops 007 climbed to third place with two hours remaining. With one hour left in the race, the Viper stumbled allowing 007 to secure second place.  The excitement atop the motor home was crazy! Fortunately, my headset prevented  the yelling and screaming from interfering with my job to keep my driver safe.  James was closing in on first place as I called out the corners the Porsche was exiting in order to inspire James to keep pushing.  Well, the finish was exciting and "real" close. 007 took second place in GTD in the 12 Hours of Sebring.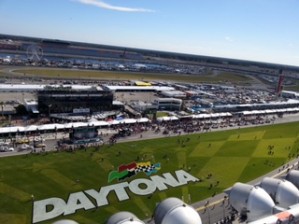 Another great 24 hour race for 2015 complete! For the second year in a row, I had the distinct pleasure of spotting for James Davison in the 007 Aston Martin V12 Vantage GT3 race car.  James comes from a pedigreed family of racers and has proven his abilities by garnering 5 poles in the last six months, one of which was at the Rolex 24. He is currently testing for Nissan, and was a driver in the Indy 500 last May. James was joined by Christina Nielsen, a young Danish born driver who has garnered a lot of experience in Europe with several podium finishes, and Brandon Davis, a World Challenge GT Champion with NASCAR experience who has been with TRG since 2013. The fourth driver was Christoffer Nygaard, another Danish auto racer with extensive European experience, the Rolex 24 being his first US racing event.
James Davison was charged with qualifying the car, having high expectations already set since James had taken four poles in a row in 2014. After beating out a Dodge Viper, James' expert driving of the 007 took the pole in the GTD (Grand Touring Daytona) class for the 24 hour race.  The team was ecstatic!
Spotters for the Rolex 24 started working the Thursday before the race, assisting the team during practice Thursday evening and Friday.  Some spotted for teams that had entered a support race, the Continental Tire SportsCar Challenge which was on Friday.
Kevin Buckler, the team owner, who has multiple car wins as a driver, including LeMans, warned the drivers in the final meeting to watch out for any car or driver with a last name ending in a vowel! "They'll take you out!" Come on Kevin, I thought, we're all friendly competitors and we all sorta like each other!  Well, early on, after leading the race from the start, a Ferrari driver spun out at Turn Six after a BMW cut him off. As the Ferrari was restarting his stalled car to reenter the racetrack, he did the dumbest thing. He popped the clutch and darted into the side of James Davison in 007. I wasn't on duty then so I can't take the blame. Ok Kevin, you were right.  The "I" did take him out!
After being in the garage for over 100 laps, 007 reentered the race with no hope of a podium finish, let alone a win. The rest of the race was clean and fun with 007 finishing 8th in GTD.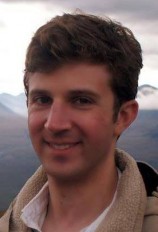 Dear Friends,
The day that we've all been waiting for has finally come! As of May 1st, 2014, LoungeBuddyhas launched on the Android platform, and is currently available for download on the Google Play Store. In addition, we announced our partnership with Cathay Pacific Airways — one of the top carriers in the world.
We are incredibly excited to provide the exclusive LoungeBuddy experience that our hundreds of thousands of iOS members have come to enjoy on a new platform, expanding our reach to millions of new potential members. If you have an Android device or know someone that does, we would greatly appreciate if you could try out our new release and share it with your friends. Please feel free to play around with the app for a while, and if you have any feedback on how we can improve your experience, we're happy to listen. Of course, we always appreciate positive reviews on the Google Play Store as well.

We've come a long way since we launched in September with 50 airports and a beta group in the hundreds to over 200,000 members using LoungeBuddy in over 400 airports around the globe.
Cheers,
Tyler
—